US close: Markets mixed as investors focus on Apple warning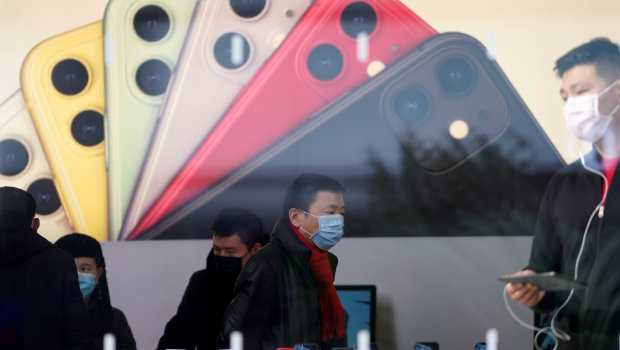 Stocks on Wall Street finished mixed on Tuesday, as the ongoing coronavirus outbreak took its toll on Apple and other stocks exposed to China's manufacturing sector.
The Dow Jones Industrial Average ended the session down 0.56% at 29,232.19 and the S&P 500 was off 0.29% at 3,370.29, as traders returned to the floor after the Presidents' Day holiday on Monday.
Going the other way, the Nasdaq Composite managed to eke out gains of 0.02% to reach a fresh record close of 9,732.74, after it turned positive late in afternoon trading.
Apple was the stock on everyone's radar during the session, finishing down 1.83% after it told investors on Monday evening that it no longer expected to meet its quarterly revenue guidance.
The California-based consumer technology giant pointed to weakened production levels and lower demand in China in the wake of the Wuhan coronavirus outbreak.
With market participants continuing to assess the potential economic fallout stemming from the outbreak, China's National Health Commission said on Tuesday that an additional 98 deaths had occurred nationwide, with 1,886 new cases of the coronavirus taking the total to 72,346 confirmed cases.
"Companies have varying degrees of exposure to the Chinese market but as we've seen over the last few weeks, the disruption has been significant and widespread," said Oanda's Craig Erlam.
"Apple is the first but it certainly won't be the last, or the most severely impacted."
Erlam said that, while the reaction in the markets had been negative, the warning was not unexpected which suggested there could be some opportunistic profit-taking occuring.
"There's a huge buy the dip mentality in these markets, as we've seen this month already. I don't see any reason to think this will be different."
On the macro front, economic activity in the New York state area started 2020 on a more solid footing, according to the results of a closely-followed survey of factory sector conditions.
The Federal Reserve Bank of New York's manufacturing sector index jumped from a reading of 4.8 for January to 12.9 in February, surpassing economists' forecasts for a reading of 5.0.
In equities, General Electric was down 0.62%, after a report in the Wall Street Journal suggested the Trump administration could block the company's sales of jet engines to China.
Macy's was down 3.6% after S&P Global Ratings cut the department store's credit to 'junk' status after the retailer released its three-year plan.
Engineering and construction firm Fluor Corporation plunged 24.31% after it said its financial reports would be delayed as authorities investigated its accounts.
On the upside, homewares retailer Bed Bath & Beyond was up 5.37% after it announced the sale of its PersonalizationMall.com service to floral and food gifts peddler 1-800-Flowers.com, which itself was up 7.17%.
Tesla rocketed 7.3% after analysts at Bernstein more than doubled their price target on the stock to $730, while Advance Auto Parts ended the session up 6.15% after earlier beating expectations on profit, even though same-store sales fell short.
Dow Jones - Risers
Walmart Inc. (WMT) $119.63 1.48%
Unitedhealth Group Inc. (UNH) $302.06 1.12%
Microsoft Corp. (MSFT) $187.23 1.01%
Visa Inc. (V) $211.20 0.43%
International Business Machines Corporation (CDI) (IBM) $151.10 0.27%
Chevron Corp. (CVX) $110.24 0.15%
Dowdupont Inc. (DWDP) $30.52 0.00%
American Express Co. (AXP) $135.60 -0.20%
Merck & Co. Inc. (MRK) $82.46 -0.23%
Walt Disney Co. (DIS) $139.14 -0.29%
Dow Jones - Fallers
Walgreens Boots Alliance, Inc. (WBA) $51.86 -1.87%
Apple Inc. (AAPL) $319.00 -1.83%
Intel Corp. (INTC) $66.14 -1.68%
Goldman Sachs Group Inc. (GS) $233.21 -1.63%
Nike Inc. (NKE) $102.00 -1.49%
United Technologies Corp. (UTX) $151.28 -1.42%
Travelers Company Inc. (TRV) $135.88 -1.36%
JP Morgan Chase & Co. (JPM) $135.64 -1.32%
3M Co. (MMM) $158.88 -1.32%
Exxon Mobil Corp. (XOM) $59.90 -1.27%
S&P 500 - Risers
Franklin Resources Inc. (BEN) $26.05 6.94%
Advance Auto Parts (AAP) $141.81 6.15%
Kroger Co. (KR) $29.71 5.24%
Wabtec Corp. (WAB) $80.01 3.84%
Newmont Corporation (NEM) $45.58 3.43%
Cabot Oil & Gas Corp. (COG) $15.30 3.38%
Dish Network Corp. (DISH) $41.29 3.30%
Twitter Inc (TWTR) $38.06 3.12%
Macerich Co (MAC) $23.53 3.02%
Advanced Micro Devices Inc. (AMD) $56.89 2.86%
S&P 500 - Fallers
Fluor Corp. (FLR) $14.79 -24.31%
Vulcan Materials Co. (VMC) $137.17 -6.67%
ConAgra Brands Inc (CAG) $30.68 -6.15%
Baker Hughes Company Class A (BKR) $20.91 -4.87%
Mohawk Inds Inc. (MHK) $131.42 -4.75%
Mattel Inc. (MAT) $13.30 -4.70%
Nektar Therapeutics (NKTR) $22.05 -4.67%
Lam Research Corp. (LRCX) $325.34 -4.11%
Gap Inc. (GPS) $17.40 -4.08%
CenturyLink Inc. (CTL) $13.34 -4.03%
Nasdaq 100 - Risers
Tesla Inc (TSLA) $858.40 7.30%
Vodafone Group Plc ADS (VOD) $20.20 3.80%
Qurate Retail Inc. (QRTEA) $9.62 3.55%
T-Mobile Us, Inc. (TMUS) $99.88 3.52%
Dish Network Corp. (DISH) $41.29 3.30%
Dollar Tree Inc (DLTR) $91.08 2.71%
Nvidia Corp. (NVDA) $296.57 2.34%
Netflix Inc. (NFLX) $387.78 1.94%
Facebook Inc. (FB) $217.80 1.69%
Kraft Heinz Co. (KHC) $27.33 1.67%
Nasdaq 100 - Fallers
Lam Research Corp. (LRCX) $325.34 -4.11%
KLA-Tencor Corp. (KLAC) $169.23 -4.00%
Mylan Inc. (MYL) $21.28 -2.83%
Applied Materials Inc. (AMAT) $65.16 -2.53%
Asml Holdings N.V. (ASML) $309.18 -2.25%
Broadcom Inc. (AVGO) $310.75 -2.21%
Microchip Technology Inc. (MCHP) $106.96 -2.19%
American Airlines Group (AAL) $28.63 -1.95%
Walgreens Boots Alliance, Inc. (WBA) $51.86 -1.87%
Skyworks Solutions Inc. (SWKS) $116.77 -1.87%